COVID-19: What We're Doing for You
In the midst of the global COVID-19 pandemic, medical practitioners are adapting to new protocols that will keep staff and patients safe. We understand that the hyper-focus on the current coronavirus situation doesn't mean other health concerns are on pause. Patients with pre-existing and ongoing conditions, who are recovering from or undergoing treatments, or who develop non-COVID related illnesses during the pandemic are in an especially tricky situation at this time. That's why we want to tell you about all the things Derick Dermatology is doing to comply with the latest regulations and protocols, so that you can get the attention you need, even during this unprecedented health event.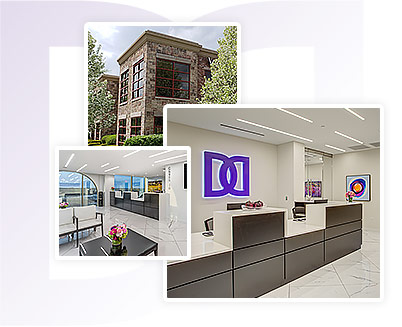 Derick Dermatology Is OPEN
We are taking every precaution to ensure the safety of our patients and staff, including the following:
All patient-facing staff will be wearing CDC-recommended masks and glasses to prevent the spread of germs.
Waiting room and exam room surfaces will be wiped with disinfectant regularly.
If you have an upcoming appointment, please contact our office if any of the following apply to you within the last 14 days:
You have traveled outside the country.
You have been in close contact with someone who has tested positive for Coronavirus.
You have symptoms that could be consistent with a Coronavirus infection (cough, fever, shortness of breath).
Click here to learn more about the precautions we are taking.
Teledermatology: Telehealth Appointments are Available
Telehealth technology has been around for a while, but for a lot of providers and practitioners, access to remote health services hasn't previously been a priority. The "new normal" that's emerged due to COVID-19, however, is proving telehealth to be more important than ever before. With strict social distancing policies in place, most practices are severely limiting the number of staff and visitors occupying their offices at any given time, and remote appointments are officially the safest option for non-urgent health concerns.
Derick Dermatology is committed to your health and safety during this difficult time. In an additional effort to slow the spread of COVID-19 while still accommodating your needs, we are offering telemedicine appointments, which are covered by insurance per Governor Pritzker's March 29, 2020 executive order. Telehealth appointments are:
Convenient: Scheduling a teledermatology appointment is fast and easy with our telehealth appointment request form. During your appointment, which should be covered by insurance, you can chat live with a professional without ever leaving the comfort of your own home! Besides helping keep you and our staff safer, you won't have to drive to a physical location for your telehealth appointment, alleviating the stress of traffic and looking for a parking space during busy hours.
Faster: The lack of commute also eliminates the need to wait for an appointment that you can schedule for a day off or have more than an hour free to accommodate an appointment. Additionally, wait times are usually lower for virtual appointments. Telehealth is especially helpful for people who have chronic skin conditions, and those with regularly scheduled appointments. If you're one of those patients, your specialist may easily be able to track your progress from a distance.
Safer: With a remote appointment, you won't spend any time in a waiting room. As a result, whenever there's a dangerous virus or other germ going around — such as the coronavirus — you'll reduce your exposure to it.
Effective: Are you concerned that a telederm appointment would be less thorough than an in-office visit? You can rest assured that for many patients, telemedicine can be just as effective as traditional appointments. In fact, in 2018, the Keck School of Medicine at the University of Southern California released the results of a teledermatology study. It found that psoriasis patients who used telehealth technologies had about the same outcomes as those who went to see dermatologists in person. And, in some of the cases, teledermatology led to marginally improved results.
We Are Offering Serology Antibody Testing
Besides offering telehealth options, we at Derick Dermatology are committed to keeping our staff and patients updated through the communication of information from reliable, fact-based sources. We are monitoring the situation and any government and health-organization updates closely. In that spirit, we've collected some basic information around, and are offering, serology antibody testing to help you understand what it is and what it means for you.
The antibody response to SARS-CoV-2 is not typical as there does not appear to be an early immunoglobulin M (IgM) response. IgM is an antibody that occurs in vertebrates (that's us!), which can be produced in response to infection.
Serology antibody testing is intended to:
Determine if someone who has been in contact with the virus
Contribute to exposure studies for a population
Assess if an individual with recent symptoms suggesting COVID-19, but who did not undergo molecular diagnostic testing or who was tested but results were negative, likely had COVID-19
Help assess those who suffer COVID-19 symptoms, yet test negative for SARS-CoV-2
Serology antibody testing is NOT intended to:
Be used as a primary diagnostic test for COVID-19
Provide an antibody titer
Be used as sole basis for diagnosis, nor assurance of immunity
Possible serology antibody test results:
Negative: This does not rule out the possibility that you are currently infected with COVID-19. You may not notice symptoms for up to 2 weeks following exposure to the virus that causes COVID-19. You must continue to practice social distancing and any appropriate instructions on exposure. You should contact a health care provider if you experience symptoms such as fever, chills, headaches, difficulty breathing, etc.
Positive: Because this test only determines the presence of IgG antibodies, additional testing is required to determine if you are currently infected. We recommend going to a COVID-19 testing center so that you can have a nasal swab test to confirm active infection. It is very important to know that medical professionals are unsure if having antibodies to this virus protects you against future infection. Therefore, you should continue to practice social distancing. If further confirmatory testing is not performed, it is recommended that you self-isolate for 7 days after the positive test. If you have symptoms during this period, such as fever, chills, headaches, difficulty breathing, etc., you should contact a health care provider immediately
Please contact us if you're interested in scheduling a telehealth or in-office appointment. We have convenient locations in Arlington Heights, Barrington, Bartlett, Buffalo Grove, Crystal Lake, Elgin, Libertyville, Lindenhurst, McHenry, Park Ridge, Naperville, Oak Brook, and soon in Skokie. Thank you, and stay safe!