Coming Soon: Derick Dermatology in Wesley Chapel, Fl
Wesley Chapel offers an upscale, energetic environment in a rural area where residents enjoy a suburban lifestyle. A rapidly growing community with many parks, golf courses, restaurants and resorts, sports venues, and upscale shopping, the Tampa suburb welcomes new residents and native Floridians. Derick Dermatology, a Chicago-based leader in the care of skin, nails, and hair, plans to open its Wesley Chapel office on June 29, 2022.
On Florida's famed west coast and near the Gulf of Mexico, Wesley Chapel started humbly with land grants in the 1840s. Private homes and apartment complexes replace the ranches and farms of a bygone era, meeting the growing demand for housing and country-style living.
Tampa offers a sports culture within an easy drive with championship teams in football, baseball, hockey, soccer, and arena football. In addition, numerous sports complexes in Wesley Chapel enhance its appeal as a Tampa suburb. A population of more than 400,000 ranks Tampa as one of Florida's largest and most diverse cities. Its stellar cuisine and beautiful architecture feature influences from Spain, Italy, and Cuba.
Across Tampa Bay, visitors and residents enjoy the Gulf Beaches and outstanding seafood restaurants. In less than two hours, fans of Disney World can arrive at the park for a day of entertainment that attracts people from around the world. Wesley Chapel boasts mild weather year-round and a pleasant lifestyle that helps make the Tampa Bay area the winner of numerous awards and recognitions.
About Derick Dermatology
A highly successful dermatology practice in 18 current Chicago locations plans to expand its outreach to Wesley Chapel. Founded in 2006 by Dr. Amy Derick, the company brings the expertise that distinguishes 16 years of leadership in the field. The new Wesley Chapel clinic offers convenient access to the highest quality dermatology services for children and adults.
A staff of highly qualified professionals offers exceptional care to local residents and visitors to the Tampa Bay area. More than 800,000 satisfied clients attest to the effectiveness of the cosmetic, medical, and surgical treatments that the skilled Derick dermatologists provide. The Florida sun creates threats that may require prevention and treatment, and Derick Dermatology provides world-class services for hair, skin, and nails.
With a deep understanding of the need for accessibility, the staff offers expanded hours to serve a community of busy and active people. Weekday appointments offer access during the late afternoon, and weekends provide opportunities for needed services. In addition, state-of-the-art technology allows clients to use the company's telemedicine portal.
Regular checkups can help Wesley Chapel residents cope with the effects of Florida's sun. Normal aging requires proper skincare to maintain its elasticity and youthful appearance. Derick Dermatology offers a range of services that treat aging skin issues. A dedicated and knowledgeable staff can provide the treatment that keeps skin in its best and healthiest condition.
Screenings can detect skin cancer in its earliest stages. Frequent exposure to the sun's UV rays on the golf course or beach requires residents to take measures to remain safe while enjoying nature in Florida. With precision and accuracy, Derick dermatologists can alert patients to potential health issues.
The friendly, upscale office provides a convenient location near Bruce B. Downs Boulevard at 2590 Healing Way, Suite 220 in Wesley Chapel, Fl 33544. The new office opens on June 29, 2022, and patients can receive treatment for any problem with hair, skin, or nails.
Some of the most commonly occurring conditions in Florida include acne, skin cancer, rosacea, psoriasis, and hair loss. Derick Dermatology provides exceptional surgical, medical and cosmetic dermatology services with the most advanced technologies to meet specific patient needs. Highly skilled dermatologists meet patients' expectations with professional expertise, advanced technology, and compassionate understanding.
Dermatology Services
Three approaches to treatment at Derick Dermatology provide access to the services that patients need to create the healthy skin that everyone wants. A dedicated staff of talented dermatologists identifies, diagnoses, and treats the specific issues that concern patients. Adult and pediatric patients receive the highest quality treatment using the latest and most advanced technologies,
Cosmetic Dermatology
Crow's feet, lines, and wrinkles can disappear with expert cosmetic treatment. Juvederm and Botox fillers can create plump lips or soften creases and furrows. Access to advanced laser resurfacing can remove scars and signs of aging, giving patients a pleasing appearance that reflects good health and outlook. Cosmetic services at Derick Dermatology include CoolSculpting, hair or tattoo removal, and intense pulsed light (IPL) treatments.
Medical Dermatology
An initial diagnosis of a complete range of skin diseases allows board-certified dermatologists to provide Wesley Chapel patients with a customized treatment plan. Medical director and founder Dr. Amy Derick trained at the renowned Pritzker School of Medicine and completed the Dermatology Residency Program at the University of Chicago Hospital. Her dedication to the science of dermatology and commitment to high standards inspires the staff and provides health benefits to patients.
Surgical Dermatology
Early detection of skin cancer provides an excellent prognosis for successful treatment. Derick Dermatology features the latest Mohs surgical techniques with highly skilled Mohs surgeons. An annual skin checkup by a board-certified dermatologist gives patients peace of mind about skin health and personal well-being. In addition to cancer screenings and annual skin checkups, the clinic offers outpatient treatment for conditions that many patients want to be resolved.
The arrival of Derick Dermatology in the Wesley Chapel, FL community brings a new level of advanced care to a fashionable, upscale office. World-class dermatologists care about each patient's health and wellness. Our staff welcomes an opportunity to serve you, and we hope to share a long-term relationship. The new office at 2590 Healing Way, Suite 220 offers easy access from Bruce B. Downs Boulevard via Legacy Boulevard and provides ample, convenient parking.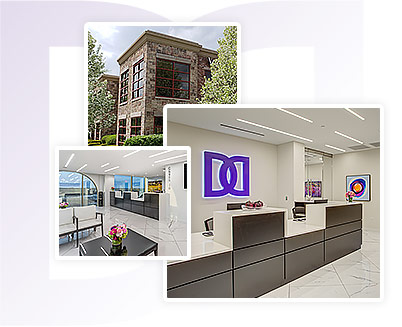 Derick Dermatology is a leading authority in medical, surgical, and cosmetic dermatological services with 23 stunning dermatology practices in Chicago, IL, and Tampa Bay, FL. Our dedicated dermatologists offer exceptional dermatological services for both adult and pediatric patients. Please complete our online form or call our main number at (866) 337-4251 to schedule a consultation.