Don't be alarmed if you have stretch marks. This doesn't necessarily mean that anything is wrong with your health or skin. Stretch marks are common, and anyone can get them. They appear whenever a person has a sudden weight gain or growth spurt that causes their skin to stretch more than normal. Although men and boys can get them, stretch marks are more common in women and girls. In fact, as many as 90 percent of pregnant women have stretch marks. They often appear on a person's stomach, buttocks, breasts, thighs, and arms, but they can also show up on a person's back and shoulders.
When and How Do People Get Stretch Marks?
Boys and girls tend to get stretch marks when they are going through puberty. Women often get them during pregnancy. Bodybuilders can get stretch marks whenever their body experiences rapid growth. Anyone experiencing sudden weight gain can get stretch marks, and they are common in people who are obese. Another group of people susceptible to stretch marks are those who use steroid ointments and skin creams over a long period of time. Additionally, anyone who takes oral corticosteroids for more than a few months might get stretch marks.
What Are Stretch Marks?
Human skin is very elastic. This characteristic is what allows the skin to stretch and then regain its shape every time you sit, stand, bend over, squat or raise your arms over your head. The reason that skin is so flexible is because of collagen, a fibrous protein that connects skin tissue in such a way that skin is able to stretch without losing its elasticity. However, when skin is overstretched, it exceeds the ability of collagen to keep the skin resilient, and the overstretched skin develops scars. Those scars are referred to as stretch marks or stria, a word that means a linear mark or groove on a surface.
What Do Stretch Marks Look Like?
Although all stretch marks are similar, their appearance will vary from person to person and from one body part to another. The way they look and their color will also depend on a person's skin tone. In general, though, they are typically composed of long, thin lines. Their surface may be slightly below or slightly above the surface of the skin, and they sometimes have a rippled appearance. Many are light pink in color although they can also be a darker shade of red. Some are even blue, purple, black or silver. Darker colors tend to fade over time and may become shiny, taking on the appearance of a scar.
Are Children's Growth Marks the Same as Stretch Marks?
In many cases, children's growth marks are the same as adult stretch marks. It is normal for teenagers to get them during a rapid growth spurt or when they have gained a significant amount of weight. While girls are more likely to get stretch marks, boys can get them too, especially if they lift weights. However, marks that look like stretch marks on the skin of a child who has not experienced a sudden growth spurt or weight gain could be a sign of a medical problem. In that case, it would be best to seek the advice of a pediatric dermatologist to determine what is causing the marks.
How to Get Rid of Stretch Marks
Anyone who is moderately concerned about their stretch marks should see a dermatologist. Otherwise, it is nearly impossible to completely get rid of them. However, there are some home treatments and natural remedies that have been shown to be effective in making stretch marks less noticeable and relieving their itch. Here are six of them:
1. Use Skin Products Containing Retinol
Retinol is a special form of vitamin A that is found in food. Many food supplements and skin care products contain retinol. If you apply a skin cream containing retinol to new stretch marks, the retinol may help to rebuild the collagen, which will make the stretch marks look more like normal skin. You may also be able to obtain a skin cream that contains a higher concentration of retinol known as retinoid by prescription from your dermatologist. However, such products may irritate the skin. They are also not recommended for anyone who is pregnant or planning to be pregnant.
2. Use a Hyaluronic Acid Moisturizer
When stretch marks appear, the damage has already been done to the skin's elasticity. However, hyaluronic acid has been shown to repair some of that elasticity. It does that by hydrating your skin. Hyaluronic acid, or HA, is a naturally occurring substance already found in the body that aids joint movement, reduces pain, keeps eyes from drying out, helps wounds to heal faster, and promotes smoother skin. Since the body already contains an abundance of hyaluronic acid, a moisturizer containing one percent HA is safe to use, and adverse reactions are rare. It is even said to be safe for people who are pregnant or nursing.
3. Use Cica Creams
Cica creams are products that contain Centella Asiatica, a medical herb that has been used for centuries in African and Chinese medicine. It is commonly used to treat cuts, bruises and other skin problems like psoriasis. Cica cream helps to repair old skin and to stimulate the production of collagen so that the repaired skin can retain its elasticity. Its anti-inflammatory properties also help moisturizing creams to work better. However, some users experience side effects like drowsiness, headaches, digestive problems, and nausea.
4. Use Skin Products Containing Aloe Vera
Aloe vera is extracted from a plant that grows in tropical and semi-tropical climates. It has been used for centuries as a topical skin treatment and is popular in products designed to provide relief from burns and sunburn. It can also be found in soaps, face creams, and moisturizers. Some studies have shown that aloe vera might be beneficial in helping to heal skin wounds. Since stretch marks are a type of scar or skin wound, it is believed that aloe vera might aid in helping to get rid of them. Aloe vera is said to promote collagen, moisturize the skin and improve its elasticity.
5. Maintain a Healthy Diet
A healthy diet will help your skin to remain more elastic so that stretch marks are less likely to appear. One of the main components of a healthy diet is to stay hydrated. Properly hydrated skin remains softer and has more spring to it. To stay hydrated, it is recommended to drink between eight and ten glasses of water per day. Foods that are rich in omega-3 fatty acids and vitamins A, E, and C can also help. This includes such foods as salmon, avocadoes, berries and vegetables. You can also boost collagen levels by eating chicken and fish skin, beans, and citrus fruits.
6. Use Sugar as an Exfoliant
Many people use exfoliants on their faces, so why not try them on stretch marks? Exfoliants are known to remove dead skin cells and improve the appearance of the skin. They are also used to unclog pores and to help fade age spots and sunspots. Exfoliants can help to reduce scarring left by acne, which means that they might also help to reduce scarring left by stretch marks. One of the safest exfoliating agents to use at home is sugar. A sugar scrub can be made by combining sugar with almond oil or coconut oil. The consistency should be that of wet sand. You can rub that mixture on your stretch marks two or three times per week when in the shower. Then you can just rinse it off.
Using Dermatological Services to Get Rid of Stretch Marks
Although home remedies may help to temporarily lessen the appearance of stretch marks, they may not be able to completely eliminate them. In that case, you will need the help of a dermatologist. Dermatologists are able to provide a number of services that can get rid of stretch marks, including laser skin rejuvenation. This procedure uses a laser that removes old skin cells and simultaneously stimulates the production of collagen. This allows new, tighter skin to grow in the place of old, scarred tissue. Once the procedure has been completed, special creams are applied to protect and moisturize the skin in that area.
Take Action Today to Get Rid of Your Stretch Marks
If you have any concerns about your stretch marks or need help in making them go away, contact us today. Derick Dermatology offers a wide range of world-class medical, surgical and cosmetic dermatological services in the greater Chicago, Illinois, area as well as in the Tampa Bay, Florida, region. Our facilities are state-of-the-art, and our dedicated staff works with each adult and pediatric patient on an individual basis to diagnose and treat dermatological issues. Our board-certified dermatologists stay abreast of new technologies and use only the safest and most modern techniques.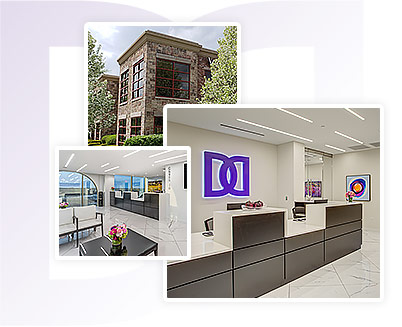 Derick Dermatology is a leading authority in medical, surgical, and cosmetic dermatological services with 23 stunning dermatology practices in Chicago, IL, and Tampa Bay, FL. Our dedicated dermatologists offer exceptional dermatological services for both adult and pediatric patients. Please complete our online form or call our main number at (866) 337-4251 to schedule a consultation.