Your Chicagoland Dermatologist
Are you seeking medical care or routine checkups for your skin? Have you been Googling the phrase "dermatologist near me" lately? If so, you should know that Derick Dermatology is the Chicago area's leader in medical services for the skin. And we accept patients of all ages.
We currently operate 14 locations. In alphabetical order, they're in Arlington Heights, Barrington, Bartlett, Bolingbrook, Buffalo Grove, Crystal Lake, Elgin, Libertyville, Lindenhurst, McHenry, Naperville, Oak Brook, Park Ridge, and Skokie. Each of these facilities features state-of-the art technologies and methodologies.
Let's take a closer look at our offices: what makes them so special and why our patients hold them in high esteem.
Three Types of Care for the Skin
We offer medical services in three broad categories.
Addressing Medical Conditions – We screen for and attend to all medical conditions of the skin, including acne, moles, eczema, and lesions. In addition, we diagnose skin cancers and, for each case, formulate the most effective therapy possible.
Providing Cosmetic Treatments – We're experts in cosmetic skin therapies, and we use equipment of the highest caliber to perform these important and delicate services. Among these procedures are Zeltiq CoolSculpting, Botox injections, Juvederm injections, and intense pulsed light (IPL) treatments. We also utilize lasers safely, effectively, and for a variety of purposes, including removing hair, taking off tattoos, and completing resurfacings of facial skin. Plus, you can always schedule a consulting appointment with us. During that session, we could discuss the optimal products for your cosmetic wants and needs.
Surgery – Sometimes, especially when a skin condition is advanced, surgery will lead to the best patient outcomes. A surgical operation could make the skin healthier, or it could revitalize the way it looks and feels. Some of these surgeries are noninvasive or minimally invasive: removing certain types of benign growths, for instance. Other surgical procedures are more complicated. At times, the expertise of a Mohs dermatologic surgeon is required. Mohs surgery, also known as Mohs micrographic surgery, involves removing skin tissue — as little as possible. In particular, it can be effectual as a skin cancer treatment. If you're scheduled to have surgery with us, be assured that your surgeon will be deeply experienced and highly skilled. Moreover, the care we give you before, during, and after your operation will be attentive and personalized.
An Elite Team
Dr. Amy Derick, a board-certified dermatologist, serves as our group's medical director. She graduated from the University of Chicago Pritzker School of Medicine, and the University of Chicago Hospital was the site of her medical residency.
Today, Dr. Derick is a renowned authority in the field of cosmetic medicine for the skin. In fact, she frequently instructs other doctors on how to perform cutting-edge skin rejuvenation techniques. On top of that, she teaches at Northwestern University's Feinberg School of Medicine.
Dr. Derick's entire staff is equally dedicated to excellence. They always rely on up-to-date pieces of equipment, and those machines are maintained in the best possible condition. And these dermatologists make their patients' visits as convenient and pleasant as they can.
To that end, each weekday, our offices open at 7 a.m. and close at 7 p.m. Additionally, you can schedule an appointment on a Saturday between 7 a.m. and noon.
What is more, it's easy to book your first appointment with us. You can just call 847-381-8899, which is our primary phone number, and ask for an initial consultation at the office nearest you. Alternatively, you could fill out our simple online appointment form.
Either way, it's easy to reserve an appointment with a dermatologist that fits into your schedule.
Better yet, we respect and value your time. For that reason, when you arrive for your appointment, we'll see you on time. You won't have to waste precious minutes, let alone hours, sitting in our waiting room.
You'll also notice that, whichever office you visit, the exterior and interior are bright, cheerful, and clean. Not to mention, since our practice is paperless, you won't need to fill out any cumbersome forms.
You may be relieved to know that we accept most commercial and exchange-based PPO plans. That way, as many people as possible can afford our services. Of course, that list includes Medicare and Blue Cross Blue Shield PPO.
During your appointment, we'll answer all of your questions thoroughly. We want you to feel comfortable speaking with us, and we want to provide you with all necessary and relevant facts and details. We'll also explain all of your treatment options in depth. As a result, you'll be able to make informed healthcare decisions.
Since we began practicing in 2006, we've had more than 741,000 patient visits, and we've amassed more than 36,000 five-star reviews. And 98 percent of our patients say that they'd recommend us to anyone who asked: "Do you know a good dermatologist near me?"
Those scores represent some of the highest in the U.S. among medical practices. For sure, that patient satisfaction rate has been responsible for our steady and swift expansion over the past decade and a half. At Derick Dermatology, we look forward to welcoming, treating, and satisfying many more patients in the years to come.
We hope that you'll be among those patients. If you'd like any additional information before you schedule a visit with us, feel free to contact us at any time.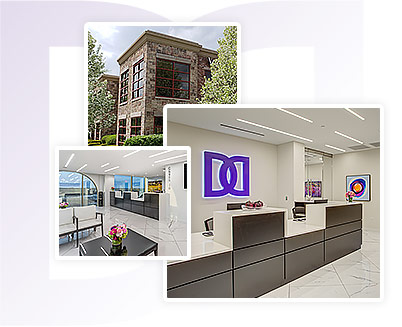 Derick Dermatology is a leading authority in medical, surgical, and cosmetic dermatological services with 23 stunning dermatology practices in Chicago, IL, and Tampa Bay, FL. Our dedicated dermatologists offer exceptional dermatological services for both adult and pediatric patients. Please complete our online form or call our main number at (866) 337-4251 to schedule a consultation.