Healthier Skin with the Help of Your Dermatologist
Acne seems like a rite of passage for almost every teenager. For most, it's simply a part of growing up and sometimes clears up on its own. For others, acne can be more severe and lead to low confidence and self-esteem. The same can be said for patients dealing with other skin conditions as well. From eczema and psoriasis to moles and skin cancer, there are literally thousands of skin, hair, and nail conditions that can affect someone's self-esteem and health. Fortunately, for almost all cases, a dermatologist can help. A licensed, board-certified dermatology specialist can help clear up acne, diagnose skin cancer, treat alopecia, and much, much more to help patients lead more healthy and confident lives.
What Does Dermatology Cover?
The skin is an extraordinary organ. Not only is it the first line of defense in protecting against disease, but it also protects the other organs, cools and warms the body, and sends messages regarding overall body health. As dermatologists, we are expert skin and medical doctors with unique skills and extensive training to protect the organ that is protecting you. With over a decade of schooling and training, we can diagnose and treat more than 3,000 skin, hair, and nail diseases. One of the most common skin conditions we treat is acne. However, in addition to acne treatment, we also remove birthmarks, get rid of warts, clear up eczema and psoriasis, and more.
We can also treat unique skin conditions resulting from systemic or genetic disorders, like skin cancer. According to estimates, one in five people in the US will get skin cancer at some point in their lives. So, dermatology professionals not only help people look and feel better by promoting healthy skin, but we also help save lives.
When to See a Dermatologist for Acne?
Over 50 million people in the US are suffering from acne right now as we speak. Even more staggering is the fact that 85 percent of people have admitted to dealing with acne at some point in their lives. Of these, 95 percent have said they have experienced low self-esteem and feelings of depression due to their acne.
Nearly everyone with acne, even mild cases, has tried clearing it up and achieving healthy skin with drugstore creams and face washes. While this works for some with mild or moderate acne and they are able to clear it up on their own without seeking further care, others with more severe acne need to see a doctor.
A dermatology specialist can treat more severe cases of acne, such as cystic acne, and help clear up the skin when drugstore remedies no longer work. With cystic acne, it is especially important to consult with a doctor, because this form of acne is painful, can leave scars, and is difficult to treat with over-the-counter methods.
Since acne has a proven link to self-esteem, it's also a good idea for those with moderate cases to consult with a doctor to review treatment options. Acne doesn't have to affect someone's life in any way.
Finding the Right Dermatologist
Credentials matter when searching for the right dermatologist or any other medical professional. In the US, it's important to look for dermatology specialists certified by the American Board of Dermatology.
That said, there are other things to consider as well. For instance, do they offer a free consultation? Are they giving their full attention and not rushing through the process? Are they committed to finding the best treatment method for each patient's specific needs?
These are just some of the things to consider, but let's have a look at a few more helpful tips.
1. Get Referrals
When choosing a dermatology specialist, it's best to begin by discussing your skin issues with your primary care provider and asking for a list of referrals. Then, ask family and friends for any recommendations they may be able to provide.
With a few names to research further, check out each one's experience and credentials on Healthgrades.com. Then, call each dermatology office to see whether or not they are taking new patients. If they are, schedule a consultation appointment to interview and discuss your options with each doctor on the list.
2. Research Credentials
A critical factor when deciding on a dermatology specialist is whether or not they are board-certified. Board certification is a clear sign that he or she has all of the skills, training, and experience needed to practice dermatology.
Also, look into whether there have been any disciplinary actions or malpractice claims filed. Both state websites and Healthgrades.com are excellent resources for finding all of the necessary information. From malpractice and disciplinary history to certifications and which medical school they attended, it's all available for public record.
3. Consider Experience
Experience definitely matters when looking for the right person to help your appearance and treat any skin, hair, or nail conditions. Like medical professionals in other fields, the more experience a dermatology specialist has dealing with a certain procedure or condition, the better.
To determine his or her experience, ask how many patients they have successfully treated with your specific condition. If you know which procedure you need, ask how many procedures he or she has performed. In addition to this, any fellowship training in skin cancer or another subspecialty is also valuable.
4. Inquire About Telehealth
Today, healthcare providers are able to use smartphones, video conferencing, and other telecommunications technology to diagnose some patients and provide treatment. This is known as telehealth.
When choosing a doctor, ask if they offer telehealth services. While telehealth can't replace in-person office visits, it can be very convenient for some and result in fewer trips to the doctor's office. Also called "virtual visits," patients can consult with their doctor and even have their follow-up appointments virtually. It is a convenient option, but not suitable for all patients. It is also not covered under all healthcare plans.
5. Read Patient Reviews
Like anything else, reviews can be quite telling and provide valuable insight into how well a doctor performs, treats his or her patients, and operates their dermatology practice. Patient reviews can be especially helpful in learning about scheduling appointments, expected wait times, and the friendliness of the doctor and office staff.
Final Thoughts
There are thousands of different skin, nail, and hair conditions a dermatologist can diagnose and help treat. From spider veins and skin cancer to eczema and severe acne, many ailments cannot be treated at home and require the help of a professional. In fact, some conditions can actually worsen with at-home remedies.
If you are suffering from a skin, nail, or hair condition, don't go at it alone. Be sure to schedule an appointment with one of our world-class providers to see what treatment plan is right for you.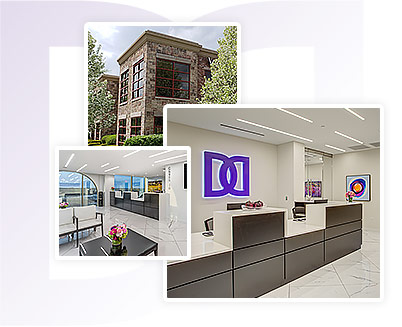 Derick Dermatology is a leading authority in medical, surgical, and cosmetic dermatological services with 23 stunning dermatology practices in Chicago, IL, and Tampa Bay, FL. Our dedicated dermatologists offer exceptional dermatological services for both adult and pediatric patients. Please complete our online form or call our main number at (866) 337-4251 to schedule a consultation.