By: Jessica Meyer
Derick Dermatology's mission is to do what is best for the patient, seek constant improvement and growth, provide outstanding service, and to take pride in our work. One of the most important things separating Derick Dermatology from everyone else is that we have one of the most technologically advanced practices in the country! To our patients, this means that we are able to provide the highest quality medical care efficiently and effectively.
Our 3D Vectra camera is an important tool that helps to provide superior service. 3D full body imaging and analysis is provided for our patients to track progress with medical and cosmetic care. It's amazing to see the possibilities patients have with proposed treatment. A major benefit is being able to see an infinite number of views from a single high resolution capture. This capture can be rotated on any axis to clearly visualize an area of interest. For example, what filler would do for your marionette lines, or how V beam would reduce the redness on your cheeks and nose. Additionally, we are able to quantify changes such as a reduction in fat volume following a Zeltiq procedure. To facilitate this, a 3D image is taken before a procedure and at every follow up to track progress. Some examples of these amazing before and after 3D photos can be seen below.
The tablets that you see medical assistants walking around with are also a great tool we use to enhance the patient's experience. Since we have invested in our own private cloud, we are able to access and update a patient's chart immediately and securely from anywhere at any time while maintaining the highest standard of patient privacy. This means that medical histories and visits can be reviewed or changed right away, ensuring accuracy and saving you time. Because of this, our providers and medical assistants are completely focused on what is going on in the room with you. There's more specific information on electronic health records and its benefits available if you're interested in our sophisticated system.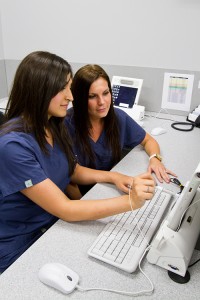 Another great feature that our patients enjoy is our free public Wi-Fi! With everyone's hectic schedule, it's necessary to multitask throughout the day. You're able to send emails, do work, surf the internet, or even read online while you're at your appointment. Patients just ask for the login information when they come in.
At Derick Dermatology, we have a private fiber connection that runs underground from the Crystal Lake office to the Barrington office. This provides connectivity between our offices at the speed of light. As a patient, you are able to call or visit either location and we have all of your medical information immediately accessible. There aren't any paper files that need to be shuttled back and forth, eliminating human error and risk to your privacy.
With all of the superior technology in use at Derick Dermatology, we are able to meet our practice's goals to ensure the best possible care for our patients!