Common Medical Dermatology Treatments for Skin Health-Beauty
Besides creating a necessary barrier to protect the inside of your body, your skin is always on display. Stubborn acne, scars, moles and other skin conditions can interfere with your health and undermine confidence in your appearance.
Finding a trusted dermatologist who specializes in medical dermatology can help resolve these issues. They are highly-trained and board-certified to assess and diagnose skin problems and thousands of diseases.
Once the medical dermatologist identifies the problem, treatment begins using a wide range of options that cure or control the condition. You can enjoy beautiful-looking skin and peace of mind again.
What Causes Acne and How to Treat It
Consistent acne can derail a teenager. Adolescents have a hard enough time already. Feeling self-conscious and mortified about their face only makes it worse. Infants and adults can get acne, too, though it is more prevalent in the teen years.
Acne develops when pores get clogged. Depending on the source of clogging, different types of acne result. Hormones called androgens play a significant role in clogging pores. They increase the size of oil glands in the skin. The higher production of oil blocks pore openings.
Oily makeup products and hair gel can contribute to clogged pores, as well. Also, diets high in sugar, refined carbohydrates, fast-food and dairy factor in—usually the staples of many teenagers!
Over-the-counter soaps, lotions and ointments usually don't bring desired results. Seeking a doctor who can administer the right treatment and helpful skincare advice helps your face return to its healthy glow.
Most Successful Acne Treatments
Though whiteheads have a stronger tendency to scar, blackheads, acne nodules, or cysts and pimples can lead to unhealthy skin, scarring and discoloration. Moreover, an acne problem increases the chances of experiencing anxiety and possibly depression for teens because of how it affects them socially.
That's why it's imperative to treat acne promptly
First, a medical dermatologist asks questions to ascertain how long the problem has existed and what steps taken before coming to the appointment. From there, the doctor determines the best treatment.
In most cases, mild to moderate breakouts are treated with a topical cream that contains one or more of these ingredients:
Antibiotic-Benzoyl peroxide
Azelaic acid or salicyclic acid
Retinoid
When dealing with deep acne cysts or nodules that cause pain and often leave scars or severe acne all over the face, the doctor usually prescribes more potent medication, such as Isotretinoin, taken orally.
Other possible treatments:
Hormonal therapy for women
Laser or light therapy along with topical cream or oral antibiotics
A corticosteroid injection used only in the most extreme cases since it causes side effects after only a few uses
Following a treatment plan conscientiously and practicing good skin care can make acne a thing of the past.
Removing Acne Scars
You don't have to live with acne scars that make you feel uncomfortable anymore.
Depressions or small holes on the face, as well as raised scars, can be treated to become barely noticeable using:
Laser treatments
Minor skin surgeries
Fillers
Chemical peels
Any remaining acne and inflammation must receive treatment and clear before implementing any of these procedures to achieve the best results.
Mole Removal
Sometimes removing a mole is motivated for cosmetic reasons only. Maybe you're self-conscious about the mole on your nose that became more pronounced as you reached your twenties.
Other times, moles might change, itch, or become worrisome. If new moles develop, especially when you're 30 or older, it's a good idea to have them checked out by a dermatologist.
Doctors recommend yearly routine skin examinations since skin cancer is on the rise and can develop within a mole.
While some skin cancers are less dangerous, melanoma is life-threatening and needs diagnosis early when it is curable.
Most harmless moles are smaller than an eraser and symmetrical, although many people have dysplastic nevi or irregular moles that never turn into cancer.
A medical dermatologist has the training to see the subtle signs that urge him to have a mole removed and tested. Though the medical community differs on treatments, usually mild-dysplasia moles are left alone and watched.
Moderate-dysplastic moles are sometimes watched, as well, and may never cause problems, although some dermatologists decide to remove them.
Severe dysplasia in a mole usually warrants complete surgical removal.
Whether you would rather have an unsightly harmless mole removed, or an irregular mole for peace of mind, seeing a dermatologist can help you make the best decision.
You should never treat a mole on your own as it can cause excessive bleeding, scarring, infection, or the spread of cancer if it exists.
Steps of Mole Removal
Depending on how deep the mole is, the medical dermatologist will either:
Conduct a surgical shave using a blade to remove the mole and examining it with a microscope. Depending on the findings, they may decide on a surgical excision to remove the mole thoroughly.
Proceed with a surgical excision to cut out all of the mole and surrounding skin to make sure to get it all. Often stitches are required, along with a biopsy if the mole looked suspicious. Sometimes harmless moles that you prefer not to have need surgical excision because of their size.
Most of the time, if done correctly, one visit is all you need. Only in cases of melanoma is it more likely that the mole will grow back.
The surgery is conducted during an office visit and requires local anesthesia, making it a painless procedure. You'll need to keep the area dry for a few days and change the bandage regularly. The doctor will provide you with detailed aftercare instructions.
The use of special creams to aid in healing can prevent a conspicuous scar.
Pediatric Dermatology
Skin changes occur regularly in children. It takes a specialized and trained doctor to recognize when a skin condition is part of normal development or a medical disorder needing treatment.
Some maladies infants, children and adolescents are prone to are:
Rashes, such as Eczema causing itchy inflammation
Birthmarks near the eye that affect eye movement or vision
Hives
Skin infections like Impetigo causing red sores and blisters
Molluscum Contagiosum–painless small bumps on the skin that are contagious
Moles
Psoriasis–red scaly patches of skin that itch
Cysts
Acne
Warts
Other conditions could include:
Hyperhidrosis or excessive sweating
Vitiligo, which causes the skin to lose its natural color
Atopic dermatitis characteristic of red, itchy skin that can flare up with asthma or hay fever
Symptoms can vary from child to child, as well as the dosage of medication prescribed. That's why going to a specialist in medical dermatology is a good idea when in doubt about skin abnormalities and how to handle them.
Our pediatric dermatologists offer professional, compassionate and skilled help for minors so that your child can get back to their daily activities feeling their best physically and emotionally.
Scheduling an Appointment
Most often than not, skin conditions are easily treatable. There is no need to worry unnecessarily or suffer from self-consciousness. At Derick Dermatology, we carefully evaluate your skin concerns and develop a safe and precise plan of action to help you get the results you want.
We provide services in the northwest suburbs of Chicago in 14 locations. Give us a call or request an appointment online today. We're here to answer all your questions and help your skin become healthy and beautiful once more.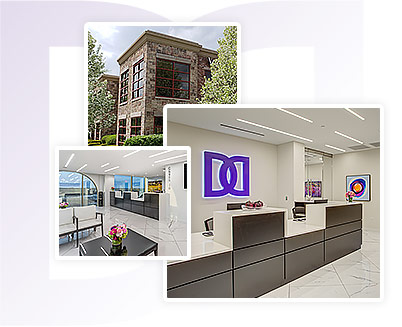 Derick Dermatology is a leading authority in medical, surgical, and cosmetic dermatological services with 23 stunning dermatology practices in Chicago, IL, and Tampa Bay, FL. Our dedicated dermatologists offer exceptional dermatological services for both adult and pediatric patients. Please complete our online form or call our main number at (866) 337-4251 to schedule a consultation.