What to Expect at Your First Visit to the Dermatologist
The first visit to a dermatologist can create worries about what happens when you get there. In addition to your concerns about skin issues, doubts about anything new can disturb your peace of mind. Visiting a dermatologist regularly can inform you about preserving the elasticity of your skin for a lifetime. Whether your issues require treatment or you want to learn the most effective skin care practices, you can find the help you need at a dermatologist's office. Derick Dermatology offers convenient locations in the suburbs around Chicago and Tampa, Florida.
Experiencing the Same Concerns as Everyone Else
It may help you to know that almost everyone feels the same way about going to see a doctor. However, you can relax about it because almost nothing happens on your first visit. Thus, you can see how things work and not worry about the next visit. You can start by booking an appointment with a pleasant staff member at Derick Dermatology who welcomes you to a friendly atmosphere where you can feel comfortable.
Sharing Your History with a Provider
In a private conversation, you get to talk to a dermatologist the same way you talk to any doctor or provider. Your first visit lets your doctor learn about your medical history. Your health issues and the prescriptions, supplements, or over-the-counter medications you take provide background information that helps build your patient profile. Honesty with your dermatologist pays off in safety and good advice that benefits you. Any medicine you take may affect your skin.
Getting a Physical Checkup
Your dermatologist needs to see the skin condition of your whole body, and it may surprise you a bit. No need to worry because you get a cloth or paper gown to put on when you slip out of your clothes. The exam consists of a look for any areas of concern on your whole body even though you may only have a case of acne. Nonetheless, your dermatologist wants to see any suspicious moles, abrasions, or sores along with uneven skin tone if any exist. A full-body checkup can give you peace of mind about the health of your skin.
Asking Questions
Your dermatologist wants to talk to you after the skin exam to share observations with you. Conditions that concern you or others that the exam revealed may require a prescription. In addition, you may receive a prescription even when you have no apparent issues. You may ask about anything you do not understand. You may want to know if your moisturizer has the best effect on your skin or what kind of sunscreen to use. Dermatologists expect you to ask about new medications and the effect they may produce on your skin. Information about potential side effects can give you a heads-up on what to expect. Learning about signs that you need to stop using a medicine or schedule another appointment puts you in a health partnership with your dermatologist.
Getting New or Updated Prescriptions
You may already know that skin issues can take a long time to correct, especially stubborn ones like acne. While it may seem convenient to get one prescription that takes care of it, you know that does not happen most of the time. Instead, your attentive dermatologist draws on years of experience and knowledge to figure out the cause of your skin issue.
Everyone's skin has unique conditions, and it may take time to find the right combination of medications for you. Follow-up appointments through telemedicine or in the office with a few weeks in between can allow your dermatologist to see how your skin reacts to the treatment.
Choosing Derick Dermatology for Professional Care
While most people think of dermatologists for treating skin issues, you can find a full range of services for hair and nails at Derick Dermatology. Convenient locations in 18 suburbs give you easy access to corrective or preventive treatment in Chicago. Similarly, a short drive to Wesley Chapel from anywhere in Tampa can provide exceptional quality care.
In state-of-the-art offices in all locations, a dedicated staff of professionals works with you to resolve any skincare issue. Our cosmetic dermatology offers options for improving appearance with Botox or Juvederm, laser hair removal, or other image-enhancing services. Medical dermatology experts can determine the causes of severe acne and deal effectively with them. In our surgical dermatology service, outpatients can recover from skillful procedures in minimal time at home. You have our assurance that our staff of dermatologists uses the most advanced technologies and techniques to care for our adult, senior and pediatric patients.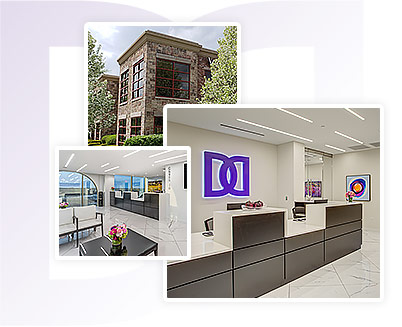 Derick Dermatology is a leading authority in medical, surgical, and cosmetic dermatological services with 23 stunning dermatology practices in Chicago, IL, and Tampa Bay, FL. Our dedicated dermatologists offer exceptional dermatological services for both adult and pediatric patients. Please complete our online form or call our main number at (866) 337-4251 to schedule a consultation.