Burr Ridge Dermatology
Our medical, cosmetic and surgical dermatology practice is expanding to serve the Burr Ridge community. Opening May 6th, 2021, our new practice will join 14 other state-of-the-art Derick Dermatology locations, serving patients throughout Chicago's northwest suburbs.
The staff at Derick Dermatology provides a full array of premium dermatology services. We also offer extended office hours and a location close to home. We look forward to meeting all of you soon!
Our History
In 2006, Derick Dermatology opened its first full-service dermatology practice for Chicagoland adults and children. Since then, we've opened 15 new clinics of which Burr Ridge is the latest. We've treated over 680,000 patients so far, and we can't wait to start serving the Burr Ridge community.
Our Medical Director
Amy Derick, M.D., is the medical director of Derick Dermatology. Dr. Derick is a board-certified dermatologist, and she specializes in rejuvenating cosmetic dermatology treatments.
After receiving a Bachelor of Science degree from the University of Notre Dame, Dr. Amy Derick completed her medical training at the University of Chicago Pritzker School of Medicine. She interned at Northwestern Memorial Hospital and served as chief resident at the University of Chicago Hospitals.
Dr. Amy Derick is a faculty member at the Northwestern University Feinberg School of Medicine and a featured speaker at Cosmetic Bootcamp. There, she teaches other dermatology specialists about the latest noninvasive rejuvenation treatments.
Burr Ridge Dermatology Services
At our family-friendly facility, we maintain an environment of compassionate professionalism. In our state-of-the-art Burr Ridge dermatology location, we can offer a wide variety of treatment options. We will work closely with you to precisely identify, diagnose and treat any issues.
Using the latest technologies and other cutting-edge techniques, we've achieved results that have earned us more than 280,000 5-star reviews so far.
Our practice is easily accessible and will offer extended services six days per week. You can schedule an appointment at any time Monday through Friday between 7:00 a.m. and 7:00 p.m.
Take advantage of our Saturday clinic hours from 7:00 a.m. until 12:30 p.m. Schedule your appointment online, or call us directly at (847) 381-8899 to arrange a personal consultation at your convenience.
Treatments We Offer
Medical dermatology treatments are used to resolve various skin afflictions. These conditions include psoriasis, skin rashes, moles, rosacea, warts, cysts, acne and acne scars, lesions, skin cancer and eczema.
Cosmetic dermatology includes a variety of techniques for skin rejuvenation:
Laser resurfacing
Juvederm and other fillers
IPL (intense pulsed light) treatments
Laser treatment for age spots, freckles and melasma
Laser treatment for facial veins
Zeltiq CoolSculpting for noninvasive fat reduction
Cosmetic product consultations
Dermatological Telemedicine Services
Not everyone is available during regular business hours. Our dermatology practice opens early and stays open late. We maintain a calm, caring, soothing and sanitary environment in which you can simply relax and let go.
Our telemedicine services make seeing a dermatologist even more convenient. Teledermatology visits are covered by most insurance plans under Governor Pritzker's Executive Order.
Schedule a consultation quickly and easily using our Telehealth online portal. Teledermatology is the cutting edge of dermatology services for busy people who want to maximize the use of their time.
A telemedicine visit can be as effective as an in-person visit. A study completed at the University of Southern California Keck School of Medicine found that patients with psoriasis receiving teledermatology services had similar treatment outcomes compared to those receiving dermatology treatments for psoriasis in person.
You might schedule a teledermatology appointment to evaluate and discuss treatment options. You might also want more information about a particular symptom or condition.
We can tell you whether a condition requires an in-person visit. In some cases, we can tell you how to treat the condition yourself at home. A quick consult could save you a trip to our office and give you peace of mind.
When to Make a Dermatology Appointment
We encourage our patients to schedule annual skin checkups and skin cancer screenings. Prevention is the best treatment.
Skin cancer in its early stages might only be visible to an experienced dermatology specialist. Because of this visibility, it can be identified early and treated effectively.
Skin holds the internal organs in place and wards off unwanted visitors like bacteria, fungi and viruses. To perform this role properly, skin needs regular maintenance and ongoing care.
According to the National Institute of Health, your skin can be an overall measure of your body's well-being. Odd moles and rashes can be a symptom of lupus, allergies or skin cancer. Some skin issues can reflect trouble with an internal organ. For example, yellowish skin can be a sign of liver disease.
We take pride in our high-tech clinic, our best and brightest staff and the compassionate patient care that is our specialty. Whatever you're dealing with, you'll find solutions with us. There isn't much that we can't make better.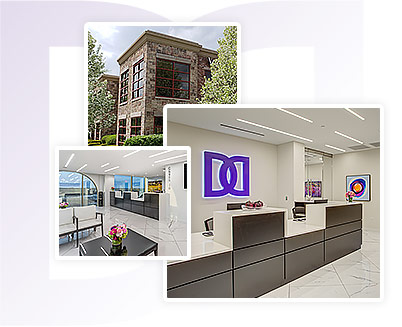 Derick Dermatology is a leading authority in medical, surgical, and cosmetic dermatological services with 23 stunning dermatology practices in Chicago, IL, and Tampa Bay, FL. Our dedicated dermatologists offer exceptional dermatological services for both adult and pediatric patients. Please complete our online form or call our main number at (866) 337-4251 to schedule a consultation.